Two weeks ago, at the height of the Sabah crisis, I produced this map for GMA News Online showing the locations of
- Kampung Tanduo/Tanduao: where the royal army of Jumalul Kiram III were holed up in
- Felda Sahabat: where the Malaysian army set up camp for the Friday assault
- Semporna: where the secondary Saturday incidents happened after the Friday assault on Tanduo by Malaysian forces
- Lahad Datu town proper: where nothing happened.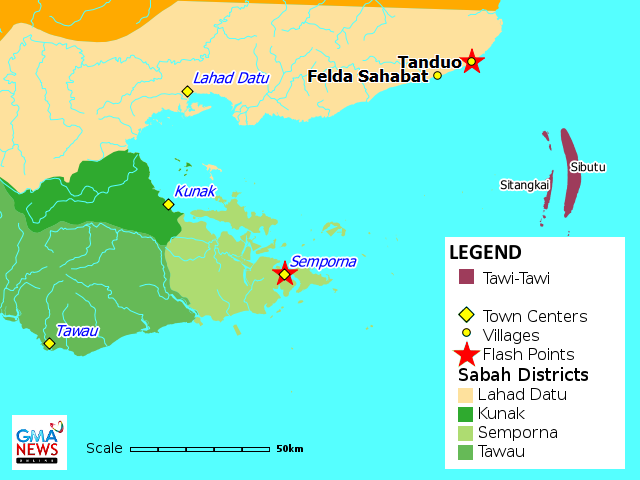 It is important to note that most of the news gathered by Philippine media were secondary accounts. They were stationed in the town proper of Lahad Datu and were cordoned off from the areas of interest by a distance of at least 100 kilometers.
The only difficulty encountered in creating this map was that Kunak was not yet drawn as a district in the shape files that I downloaded from the Diva GIS website.
I read an opinion piece somewhere (I can't find it anymore) that the reason Lahad Datu was chosen by the Kiram's forces was because it was not a big town. Aside from that, its proximity allowed the army to regroup or ask for reinforcements from Sitangkai or Simunul, Tawi-Tawi. If they really wanted to create chaos, they should have went to Sandakan but that would have entailed more planning due to the distance and a bigger force needed.
Due to the crisis, prices of daily commodities in Tawi-Tawi rose as products which usually came from Sabah stopped coming in. Zamboanga City, which is the nearest big town, is 9 hours away (360km).
But recently, as this article from
Rappler
indicates, the area of interest shifted somewhere north of Lahad Datu: Sandakan.
Sandakan is the second biggest town of Sabah, second only to Kota Kinabalu, the capital of the state, in population. There is a big population of undocumented Filipinos working there. DSWD is now
preparing for the eventual deportation of undocumented Filipinos
by setting up a one-stop processing shop in Taganak (the red pin A in the map above). Taganak, also known as Turtle Islands is "the nearest Philippine soil" to Sandakan. Taganak is very isolated, around 200km away from the nearest Philippine town Bongao which is at least 5 hours away.
This is the first post in a series of posts (hopefully), explaining the news in terms of geography.